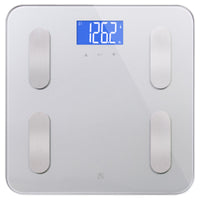 Body Composition Scale
Customer Reviews
Write a Review
Ask a Question
05/10/2021
Solid product! And very interactive. It's a must have for anyone!
04/13/2021
Heard great reports. Now time to put it to the test
04/11/2021
I love it! Very simple to setup and easy to use.
04/05/2021
This scale is exactly what I was looking for. The color works well to match its surroundings in our bathroom. It is nice and light in weight even though it's glass. I like how it goes to sleep when not in use which conserves the battery. This scale came with batteries installed and is ready to right out of the box. A simple removal of a plastic tab where the batteries are makes it extra easy. It has a welcoming "HI" once you step on the scale so you know it's ready. Like I said, it's a light, convenient and intuitive scale that works perfectly for our household and I am very happy with my purchase.
04/05/2021
Sleek and beautiful design!